Almond Flour Bread (Keto)
An awesome textured and high protein keto bread that you will turn to for all your toast needs.
I absolutely fell in love with this bread. I have recently tried to be more gluten free. Not because of any specific reason but have come to the realization that my body responds better to it. I have not eliminated gluten completely but overall, trying to introduce more healthy keto and low carb recipes into life.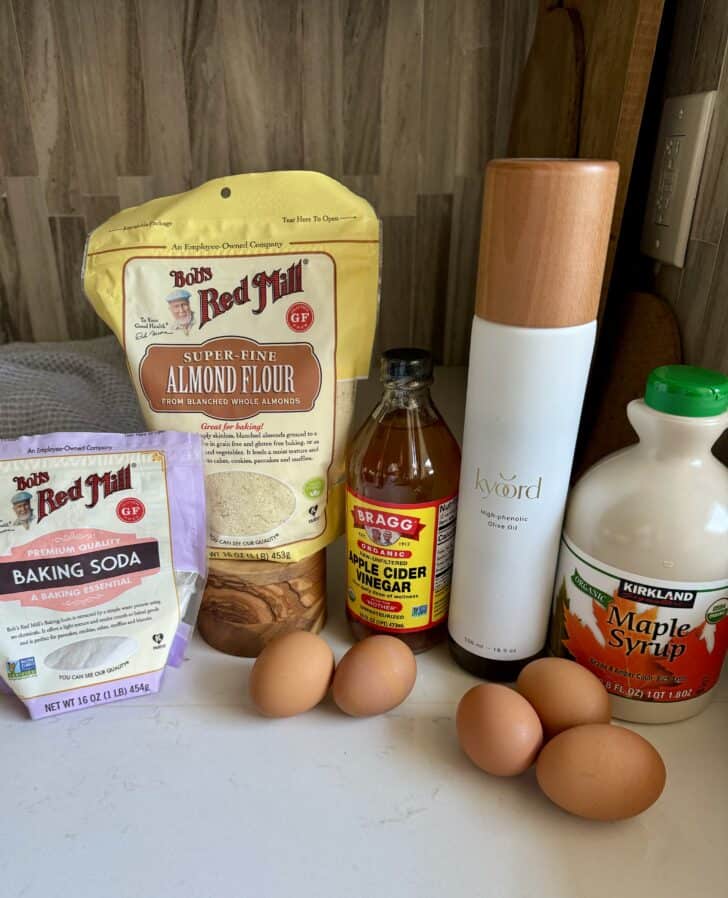 This was a recipe we found online and just had to try. One of the hardest items to eliminate from a Greeks diet is bread. It was always on the table growing up. This bread is an amazing substitute. Super simple to make and really delicious when you 'dress it up'.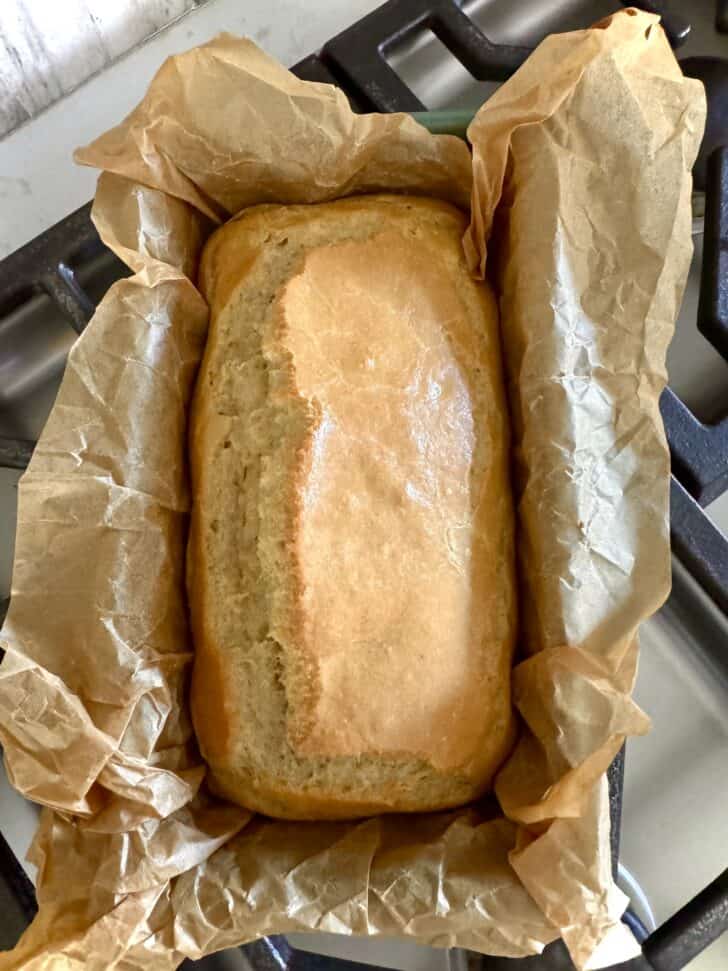 A great tip for this bread is to slice and toast it in the mini oven. I used this for my sandwiches and loved it. We also had it with butter and honey and that was delicious too. Today I'm going to make myself an avocado toast.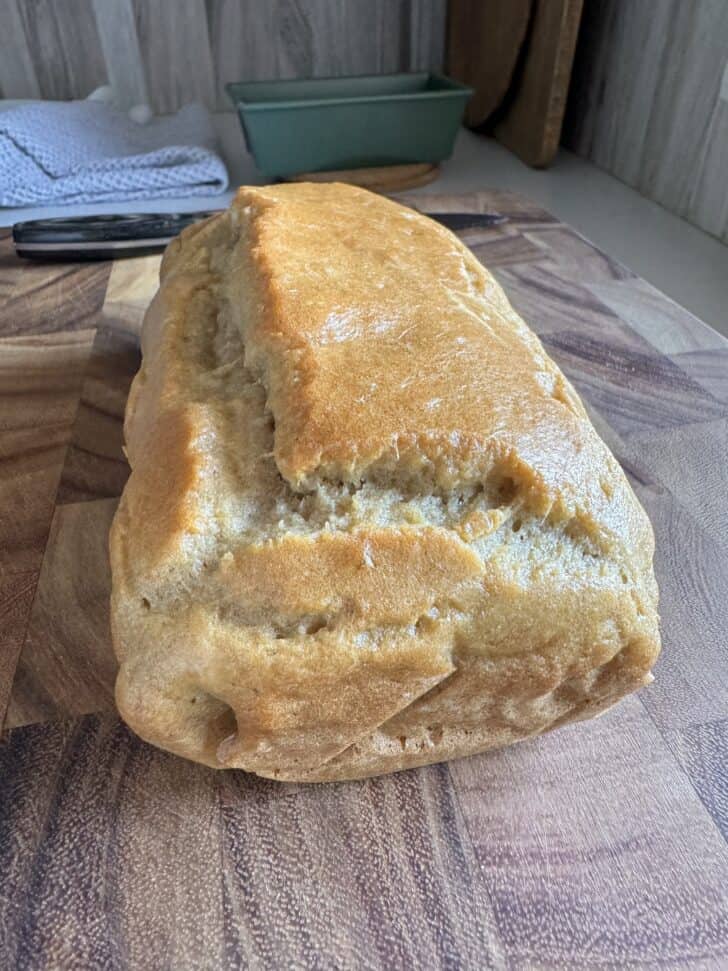 Two key points to make about this recipe are make sure you incorporate the apple cider vinegar in the batter or else the loaf will not rise properly. Also, the recipe calls for an 8 or 8.5 inch loaf pan. I haven't tried it with a 9 inch so I'm guessing the time might be a bit longer and the bread will come out a bit flatter in height.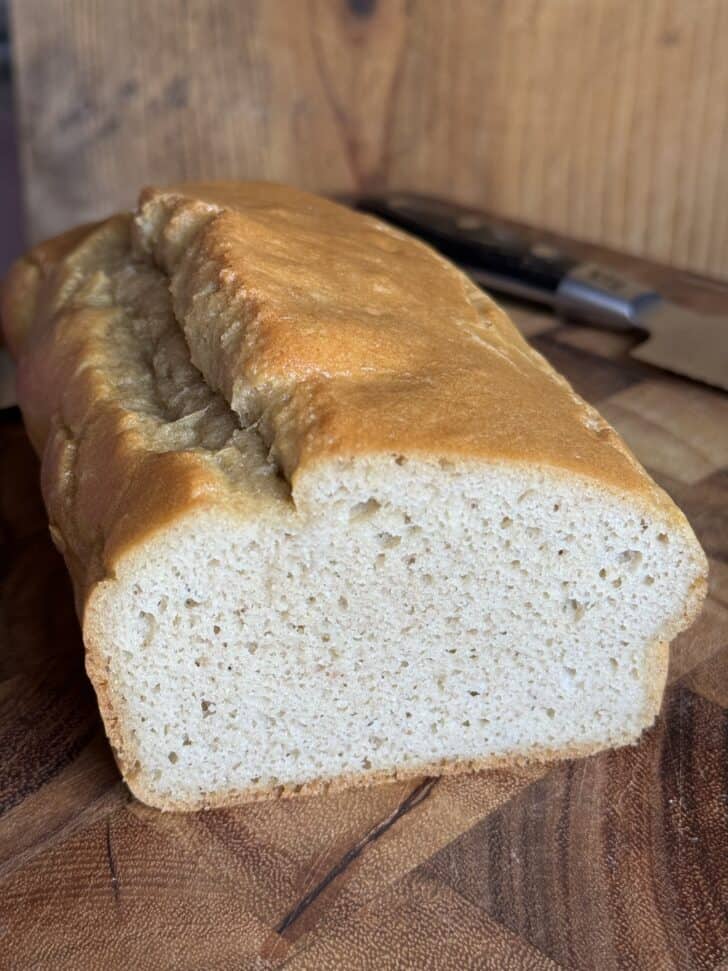 I also want to include that the bread had an omelette type of smell (which is to be expected since there are 5 eggs included in the recipe) once it came out of the oven. It does go away once you let it cool and refrigerate it though. Store this in an air tight container in the fridge. You can also individually slice, wrap and store this bread in the freezer.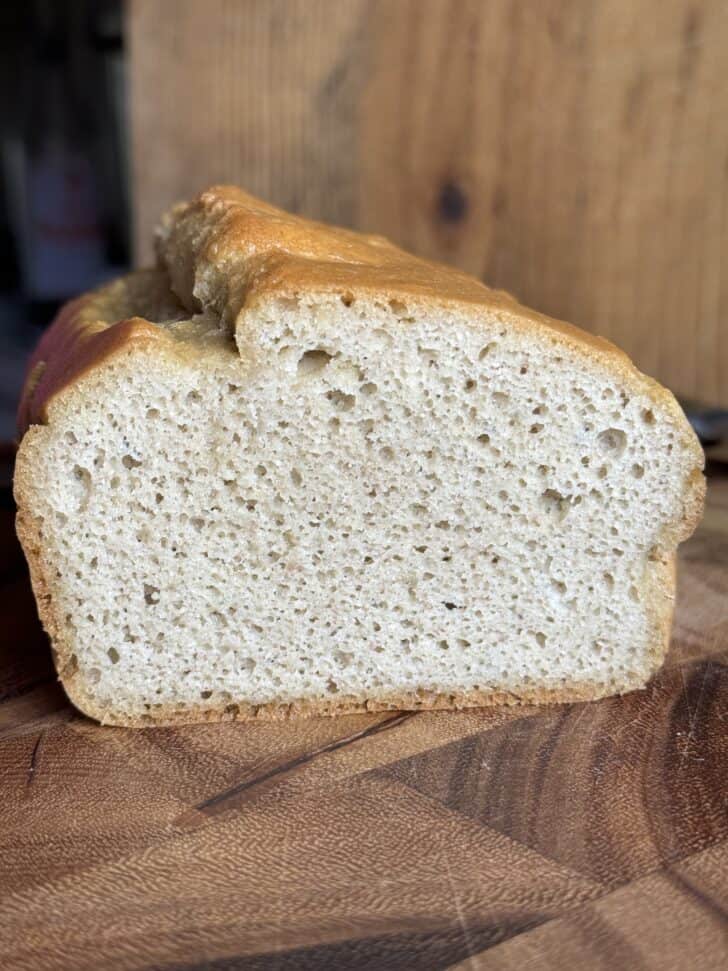 Thank you for swinging by Hungry Happens! If you create this recipe or any other from our site, we would greatly appreciate you taking the time to comment and rate the recipe. LOVE YOUR LIFE!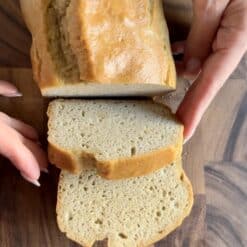 Almond Flour Bread
Instructions
Preheat your oven to 350℉. Line an 8 or 8.5 inch loaf pan with parchment paper.

In a bowl, lightly beat your eggs. Whisk in the oil, maple syrup and Apple Cider Vinegar (don't skip the vinegar or the bread will not rise properly) until smooth. Next mix in the almond flour, baking soda and salt until incorporated and the batter is uniform and thick. Transfer to your loaf pan and bake for 30-35 minutes or until golden on top.

Cool the loaf 10 minutes in the pan, remove to a cooling rack and cool another 20 minutes. Slice and enjoy as a sandwich bread, avocado toast or with honey and butter.
Notes
Best enjoyed sliced and toasted!
Store leftovers in an air tight container in the fridge.
You can slice, wrap and store in the freezer too.
You can use white wine vinegar in place of the apple cider vinegar.
Nutrition
Calories:
175
kcal
|
Carbohydrates:
5
g
|
Protein:
6
g
|
Fat:
16
g
|
Saturated Fat:
2
g
|
Polyunsaturated Fat:
1
g
|
Monounsaturated Fat:
5
g
|
Trans Fat:
0.01
g
|
Cholesterol:
68
mg
|
Sodium:
120
mg
|
Potassium:
29
mg
|
Fiber:
2
g
|
Sugar:
2
g
|
Vitamin A:
99
IU
|
Calcium:
47
mg
|
Iron:
1
mg