Greek Coffee (Elliniko)
The most flavor rich coffee straight from Greece!
There are a few different brands of Greek coffee on the market but the best, by far, is Loumoudis brand. No, this is not an ad but just a loyal and satisfied 20 year customer. I've tired other brands but this is steadfast the most rich in quality and flavor.
Greek coffee is made in a "briki" or small pot. The coffee is fine ground and doesn't require any filtration like American coffee. When you pour the coffee into your cup of choice, the coffee grounds settle at the bottom. Once you drink your coffee, you will see a sort of mud at the bottom of the cup. Do not drink it – its extremely bitter.
Every great Greek coffee has a nice amount of "kamaiki" (foam at the top of the cup). If you over cook the drink, the kaimaki will evaporate. It is essential to remove the pot from the burner as soon as it begins to bubble over, in order to retain the froth.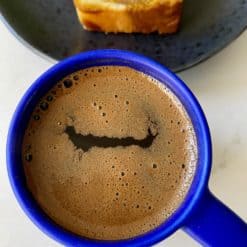 Greek Coffee (Elliniko)
Instructions
Combine the ingredients with a spoon in a small pot over medium high heat, until smooth. Make sure to stay by the burner and watch – don't walk away.

Once the mixture starts to bubble up and fold towards the center, promptly remove the pot from the burner and pour into your cup.

Allow the coffee to rest and cool a few minutes prior to sipping.
Notes
If you're making multiple servings, make sure you distribute the kamaiki (froth at the top) evenly among the cups/mugs. You do this by pouring a little bit in each mug, at a time.
If you know how to read the flitzani DM me! This is an old Greek custom where you turn the mug over when you're done drinking and allow the coffee grounds to form a mural of sorts on the interior of the cup. Your mom or aunt or grandmother then proceed to read your future through the mural. It's a fortune telling of sorts and quite fun to have a good laugh!