Greek Yogurt Bagels (4 Ingredients)
Homemade bagels that are high in protein with an incredible texture that you will fall in love with.
We love love love to make these bagels in my house. They're easy to throw together with just 4 main ingredients. The salt isn't counted and neither is the topping since it is optional. You can use Everything Bagel Seasoning or poppy seeds or sesame seeds or simply leave them plain. Regardless, they will be your new favorite alternative to store bought. And take it from me, I grew up in New York and know a good bagel when I see one!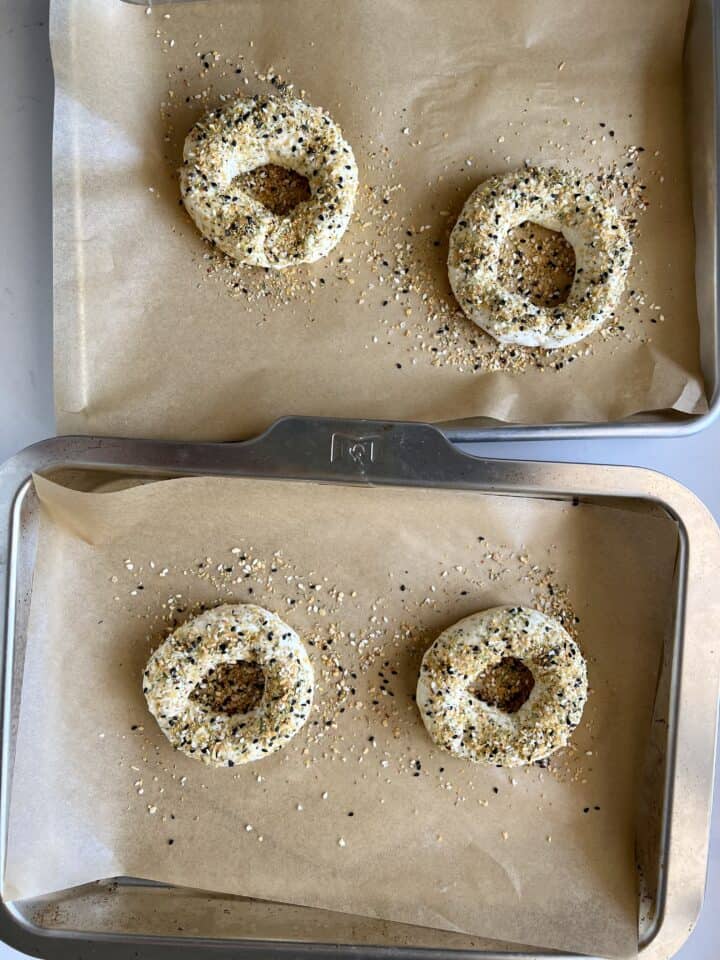 So the key points to this recipe are only use NON FAT 0% Greek Yogurt to avoid stickiness! Do not over flour the dough when kneading or forming your ropes. Also, don't form your bagels with a super wide hole in the middle. Don't skip the 15 minute rest period either post bake. You can also air fry these bad boys at 280 F. for 15 minutes or until they turn golden (no need to flip them). Let them cool the same 15 minutes post air fryer.
Slice then slather on your cream cheese, butter or eggs and enjoy! They are so easy to make and I hope you try them!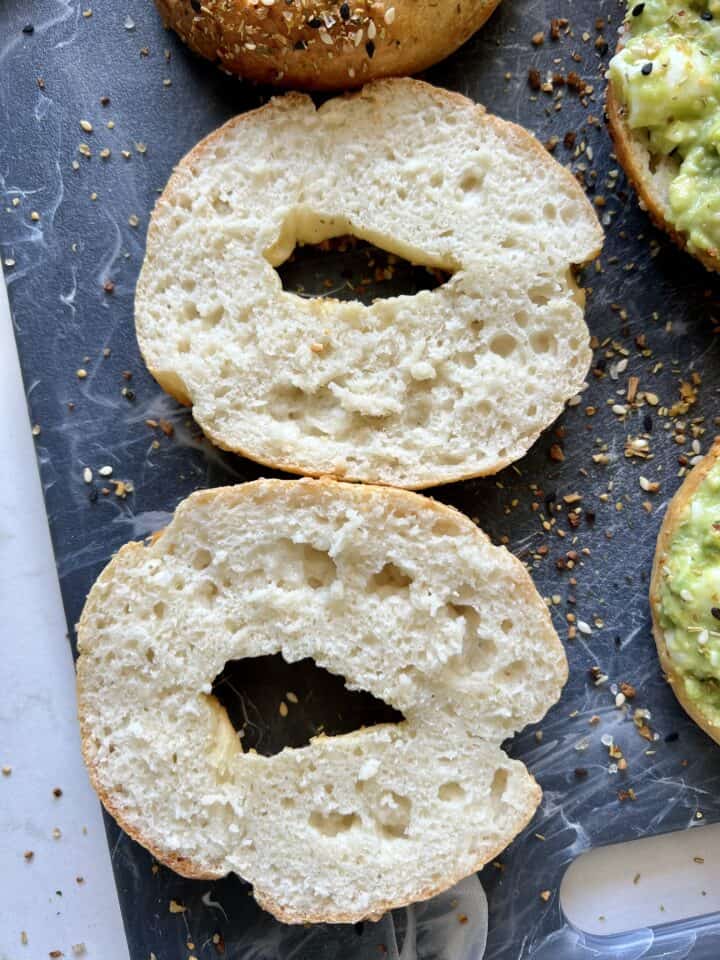 Thank you for swinging by Hungry Happens! If you create this dish or any other from our site, we would greatly appreciate you taking the time to comment and rate the recipe! LOVE YOUR LIFE!
Greek Yogurt Bagels (4 Ingredients)
Ingredients
Optional Toppings:
Instructions
Preheat your oven to 375°F. Line a baking sheet with parchment paper.

In a large bowl, whisk your flour, baking powder and salt. Add in the Greek yogurt and mix. It will look like crumbles but continue using your hands to combine and form a dough ball. LIGHTLY sprinkle a clean surface and knead your dough about 15 turns. It should be tacky but not sticky.

Divide the dough ball into 4 equal parts and then roll each ball out on a clean surface (no flour needed further) to form a rope about 3/4 inch thick. Join the ends together to form your bagel and repeat with the rest of the balls. Keep in mind, the center space should not be too wide.

Next brush each bagel with the egg wash and sprinkle with the everything bagel seasoning. Bake for 25 minutes remove and let them cool for 15 minutes prior to slicing.
Notes
Easily switch out the flour to gluten free flour or almond flour.
Nutrition
Calories:
161
kcal
|
Carbohydrates:
26
g
|
Protein:
10
g
|
Fat:
2
g
|
Saturated Fat:
0.4
g
|
Polyunsaturated Fat:
0.3
g
|
Monounsaturated Fat:
0.5
g
|
Trans Fat:
0.01
g
|
Cholesterol:
43
mg
|
Sodium:
682
mg
|
Potassium:
120
mg
|
Fiber:
1
g
|
Sugar:
2
g
|
Vitamin A:
61
IU
|
Calcium:
184
mg
|
Iron:
2
mg