6 Ingredients No Bake Peanut Butter Chocolate Oat Cups (Vegan)
This is the healthy peanut butter and chocolate treat when you want something sweet.
The whole family LOVED these little cups; they were gone in under 24 hours. They give off serious Reese's Peanut Butter Cups vibes but way more healthy, loving and delicious. With only 6 ingredients that you most likely have in your pantry already – these NEED to be made!
This recipe is so simple to make. Simply mix up the ingredients in a bowl. Divide the mixture up into 10 muffins slots and flatten them as best as you can. Freeze for at least 2 hours. Then get your peanut butter chocolate mixture going, melted in a small pot on LOW heat. Top with the chocolate and some flaky salt, freeze some more and enjoy!
Thank you for swinging by Hungry Happens! If you create this dish or any other from our site, we would greatly appreciate you taking the time to comment and rate the recipe! LOVE YOUR LIFE!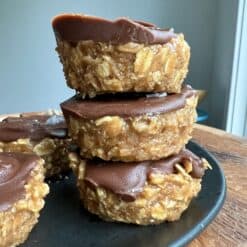 No Bake Peanut Butter Oat Cups
Instructions
Cups:
In a medium bowl, mix together the oats, almond flour, peanut butter, syrup, vanilla and salt. Transfer to a muffin tin lined with liners evenly amongst 10 slots. Flatten out as best as possible. Freeze the tray for at least 2 hours.
Chocolate Topping:
In a small pot over low heat, melt the chocolate chips and peanut butter, stirring constantly until smooth and melted. Remove the tray from the freezer and drop about 1 -2 tbs of chocolate on the tops of each and smooth it out flat. Sprinkle with the flaky salt and freeze for another hour.

Store in an airtight container in the freezer.
Notes
Make sure you use dairy free chocolate chips to keep these vegan.
You can use oat flour or ground up sunflower seeds instead of almond flour.
If you use honey, they are no longer vegan.
Nutrition
Calories:
294
kcal
|
Carbohydrates:
27
g
|
Protein:
8
g
|
Fat:
18
g
|
Saturated Fat:
4
g
|
Polyunsaturated Fat:
4
g
|
Monounsaturated Fat:
8
g
|
Cholesterol:
2
mg
|
Sodium:
245
mg
|
Potassium:
230
mg
|
Fiber:
3
g
|
Sugar:
16
g
|
Calcium:
42
mg
|
Iron:
1
mg