Seafood Stuffing
The ultimate stuffing and side dish for the holidays.
Once you go seafood AND cornbread, you're spoiled for any future stuffing alternatives. This is such a great combination of well seasoned, 'meatiness' from the shrimp and crabmeat and the sweetness of the cornbread. You can use Italian bread too.
I definitely recommend making the cornbread from scratch. The cornbread box is okay too or buying the ready crouton style stuffing cubes, at the super market also works. Whatever you do, make sure it is cubed and dried out in the oven if it's fresh bread.
I do not like my stuffing soggy. That's a big no no for me. I used 3 cups of chicken broth for that reason. If you like, add an additional cup. Yes, low sodium chicken broth is fine here, or vegetable broth.
Every oven is different so final bake times will vary. I like mine extra brown and crispy so I left it in for 45 minutes. If you prefer a moister stuffing, take it out at 30 or 35 minutes.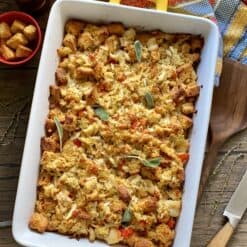 Seafood Stuffing
Ingredients
6

tbs

butter

cubed + divided

3

celery stalks,

chopped

1

large

onion,

chopped

1

small

red bell pepper,

fine chop

2

tsp

Old Bay seasoning

1

tsp

dried rosemary

1/2

tsp

dried thyme

1

lb

shrimp,

peeled, deveined + chopped

salt

1

lb

lump crab meat,

drained

3

eggs,

beaten

3

cups

seafood or chicken broth

fresh sage for garnish
Instructions
Preheat your oven to 350°F. Lightly spray a 9×13" baking dish with oil.

You can buy store bought cornbread and cube it or use my delicious recipe linked above. Toast the cubes in your oven, on a baking sheet, for 30 minutes (or until crunchy and golden brown).

In a large deep skillet, heat 3 tbs butter over medium high. Add the onion, pepper and celery and cook for 3 minutes. Season with Old Bay and dried herbs.

Season your shrimp with salt to taste. Add it to the pan and cook for one minute, tossing them around. Transfer this mixture to an extra large bowl. Toss it with the crabmeat and cornbread cubes. Mix in the eggs and broth to coat all. Transfer this mixture to your prepared baking dish and top with remaining butter tabs. Bake for 30-45 minutes. or until golden brown on top.
Notes
You can definitely skip the extra tabs of butter that i add on the top of the stuffing. It will still taste incredible.
*Instead of cornbread, you can also chop up a loaf of day old Italian bread into cubes and toast them in the oven.