Tourlou (Greek Vegetable Stew)
Colorful, fresh and simple to make, this stew is everything wholesome.
This is another one of my mom's recipes that she has been making since I can remember. My mother grew up in a small village in Greece with no markets whatsoever nearby. They ate off of the land and the animals that they had. They also exchanged food with neighbors etc.
This dish is the epitome of simple and healthy eating. Bonus: you are basically cleaning out you fridge in the process of creating a delicious meal.
For me, this dish is an entree, not a side dish. I will share the plate with some warm bread and maybe feta cheese and that is it. It fills me up and has me very happy.
The beauty of this dish is you should use what you have already. There is no wrong or right here. Use your favorite vegetables and douse them in that lovely sauce. Everything comes together so quickly and deliciously. Enjoy!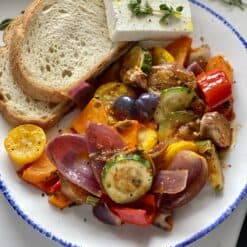 Tourlou (Greek Vegetable Stew)
Ingredients
1

large

sweet potato

1

medium

red onion

2

medium

eggplant

2

bell peppers

2

zucchini

1

jalapeno,

sliced

3

cloves

garlic,

minced
Instructions
Cut all your vegetables into medium – large chunks. Transfer to a large pot.
Sauce:
Grate your tomatoes into a medium bowl (discard the skins). Add the rest of the Sauce ingredients in and whisk together with salt and pepper to taste.

Pour this sauce over the vegetable chunks and mix to coat. Turn the heat on high and when the juices start to boil, cover the pot and lower the heat to a simmer. Cook 15 minutes, stirring occasionally.

Uncover and cook for an additional 10 minutes (until sauce thickens and veggies are just fork tender).
Notes
Serve with more olive oil, fresh bread and feta cheese.
I make this for my meal prep and eat it all week. Warms up great in a pan.
Sub in 1 tablespoon sugar for the honey if you want to make it vegan.