Chinois Chicken Salad (Wolfgang Puck)
This salad brings all the right asian inspired flavors with the salad dressing and ingredients.
Found this online in a search for an Asian inspired salad. Its an amazing masterpiece of ingredients and the dressing packs the punch with its tangy flavor. I specifically found this recipe on Rachael Ray's website but the recipe comes from chef Wolfgang Puck's restaurant, duly named Chinois in California. It is the most popular dish on the menu for good reason. Chinois is a French word and is pronounced SHEEN-WAA. Its is the French word for Chinese.
the dressing:
This vinaigrette is a creamy tangy delight. The base is roasted peanut oil which is one of my favorite oils to use in a salad dressing for the flavor. I also used sesame paste which I purchased on Amazon, but you can use tahini in its place. The egg yolk lends a delicious creaminess to the recipe. The most important aspect of this dressing is to taste it at the end and adjust. I ended up adding more honey because I tend to like my dressings sweet.
the salad:
The chicken was seasoned with garlic powder, onion powder and salt and grilled in a pan. You can season yours as you prefer but I recommend slicing it thin for the salad. If you don't have a mango, you can sub in orange slices. I also added in frise lettuce to the salad for some texture.
When you plate this salad to serve, you want to create a dome, cone shape mountain of salad on your plate.
Thank you for swinging on by Hungry Happens! If you create this recipe or any other from our site, we would greatly appreciate you taking the time to comment and rate the dish! LOVE YOUR LIFE!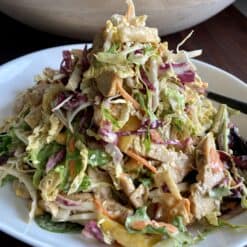 Chinois Salad (Wolfgang Puck)
Ingredients
Salad:
2

lbs

chicken breasts,

cooked + sliced thin

5

cups

Napa cabbage,

julienned

4

cups

mixed greens

1

head

radicchio,

julienned

2

carrots,

julienned

1

mango,

julienned

2

cups

wonton strips

1/3

cup

toasted cashews,

chopped

2

tbs

toasted sesame seeds
Instructions
Dressing:
In a blender, combine everything except the peanut oil, until smooth. Next, slowly drizzle in the peanut oil while the blender is running. Taste and adjust to your palate.
Salad:
Transfer all of the ingredients to a large bowl. Add half of the dressing to the salad and toss to coat. Taste and add more dressing if you like, a little at a time.

When you plate the salad, you want to create a dome/cone shaped 'mountain' of salad on your plate.