Easy Vegan and Flourless Pumpkin Brownies (One Bowl)
A fudgy rich brownie that's one bowl easy to make.
The number one most asked question on my series of these flourless brownies/bars and muffins is, "What can I substitute the egg with"? Well thankfully, the Hungry Happens TikTok page received a ton of feedback from commenters saying that a flax egg works, as does 1/4 cup applesauce.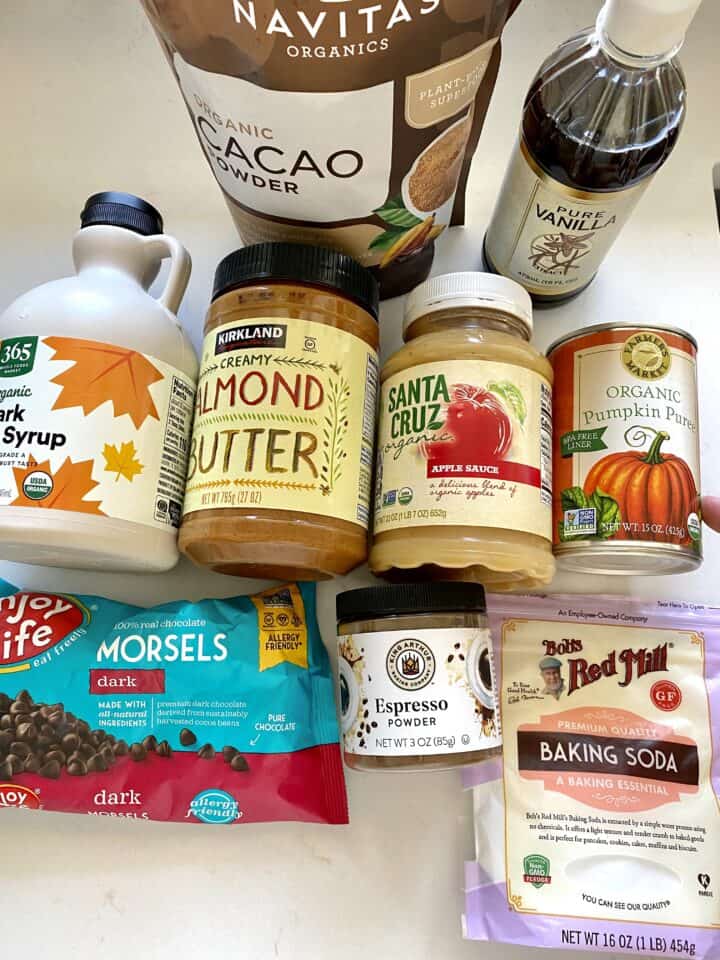 There are a few things that you need to execute with these bars that will help them better stay together. First of all, you gotta let them cool completely. I always make these at night and let them cool in the pan for at least 30 minutes. Next, transfer the whole 'cake' to your cooling rack and let it settle there for another 30 minutes. I then, place it in an airtight container, leave it uncovered until I go to sleep. When you wake up the next morning, that's when you slice it up.
This is a super rich and decadent brownie – so very chocolatey delicious. The one thing listed below as optional, however, is highly recommended; grab yourself a container of espresso powder. It brings out the chocolatey flavor to levels you can't imagine. Any time you make a chocolate desert, cookie, bar, pancakes, cake, drink, add a little powder and it goes a long way!
The verdict is in, this egg free recipe definitely works beautifully! However, if you don't have an egg allergy and are not vegan, use the egg. The egg definitely makes the bars a bit more fluffy and binds better than the applesauce.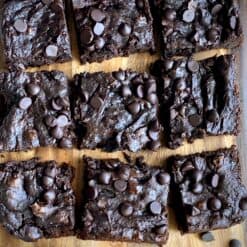 Easy Vegan and Flourless Pumpkin Brownies (One Bowl)
Instructions
Preheat your oven to 325° F. Line an 8×8 inch brownie pan with parchment paper.

In a large bowl, mix all ingredients until just smooth. Don't over mix and try not to eat all of the batter!

Transfer your batter to the pan and smooth out evenly. Optional: sprinkle top with extra chocolate chips.

Bake for 27-30 minutes or until toothpick comes out mostly clean.

Allow it to cool as long as you can. I typically make this at night and slice into it the following morning. Sorry but it's gotta set.
Notes
Make them completely refined sugar free by using Lily's sugar free chocolate chips.
You can sub in all natural peanut butter for the almond butter.
Non Vegan Options: you can skip the applesauce and use one egg. You can also use honey instead of the maple syrup.
Nutrition
Calories:
248
kcal
|
Carbohydrates:
20
g
|
Protein:
6
g
|
Fat:
18
g
|
Saturated Fat:
3
g
|
Polyunsaturated Fat:
4
g
|
Monounsaturated Fat:
9
g
|
Cholesterol:
2
mg
|
Sodium:
192
mg
|
Potassium:
312
mg
|
Fiber:
4
g
|
Sugar:
13
g
|
Vitamin A:
825
IU
|
Vitamin C:
1
mg
|
Calcium:
115
mg
|
Iron:
1
mg