Italian Basil Pesto
The super green pesto perfect for all your sauce needs.
The flavor this pesto carries is like no other. I can eat it with a spoon. But my favorite is on some pasta, on some chicken or in a sandwich. It levels up any dish and you will not regret taking the extra 15 minutes to make it.
So my tips are pretty straight forward. First thing, refrigerate the blade of your food processor since the steel blades tend to oxidize basil, which turn in dark green and can give it a bitter taste – we definitely don't want that.
I next give the leaves an ice bath to crisp them and liven them up! I do this for most of my greens when making salad. It also helps with the color too. Finally, make sure your basil leaves are completely dry. The last thing you want is water pesto
Thank you for swinging by Hungry Happens! If you create this dish or any other from our site, we would greatly appreciate you taking the time to comment and rate the recipe! LOVE YOUR LIFE!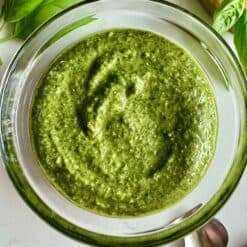 Italian Basil Pesto
Ingredients
4

oz

fresh basil

2

cloves

garlic

1

tbs

pine nuts

(or walnuts)

salt

to taste

1/2

cup

olive oil

1/2

cup

freshly grated parmesan cheese
Instructions
Remove the blade of your food processor and transfer to your fridge to chill for 10-15 minutes while you prep the ingredients.

Rinse your basil in ice water for a few minutes. Remove and dry it as best as possible; you don't want watery pesto. Remove and discard all of the stems.

To your food processor add the basil, garlic and pine nuts and pulse until chopped finely – about 30 seconds. Next add in the salt and with the motor running, drizzle in the olive oil. Stop the machine and add in the cheese. Turn the food processor back on and pulse until smooth – about 30 seconds more.

Store your pesto in a sealable jar in your fridge.
Notes
Lasts for one week in the fridge and 6 monhts in the freezer.