Perfect Swedish Meatballs
Flavorful meatballs swimming in a rich creamy gravy sauce.
FYI: The origin of this dish turns out to be Turkish, not Swedish as per an official 2018 tweet off of Sweden's own national account. Apparently King Charles XII of Sweden, resided in the Ottoman Empire for 4-5 years in the early 18th century. When he returned home to Sweden he brought this recipe back with him.
This dish is also widely popular at all IKEA store cafeterias. I've enjoyed it there myself. Well the good news is, you don't have to go to Turkey, Sweden or Ikea to enjoy these beauties. This recipe is a fantastic and delicious delight.
The meatballs are made with not-your-usual spices consisting of allspice and nutmeg. I also sautéed the chopped onions to sweeten the flavor- you don't have to though. The sauce is so velvety good with the flavor really kicked up with that combination of a butter rue, beef broth, Worcestershire sauce, Dijon and heavy cream – CHEF'S KISS!
Serve these silky beauties with some mashed potatoes, rice or egg noodles for optimal sauce pleasure – you wanna enjoy all that glorious sauce. Garnish with fresh parsley and freshly cracked black pepper.
Thank you for swinging by Hungry Happens! If you create this recipe or any other from our site, please take the time to comment and rate the dish – we would greatly appreciate it!! LOVE YOUR LIFE!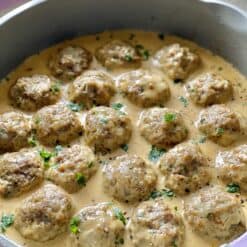 Perfect Swedish Meatballs
Ingredients
Meatballs:
1/2

onion,

fine chop

1

tsp

olive oil

2

lbs

ground pork

(or beef)

1/2

cup

panko breadcrumbs

2

eggs

2

tbs

fresh parsley,

chopped

1/2

tsp

cardamom

1/2

tsp

ground nutmeg

1/4

tsp

ground all spice

1

tsp

garlic powder

1.5

tsp

salt

1/4

tsp

black pepper
Instructions
Meatballs:
Preheat your oven to 400° F. Line a large baking sheet with parchment paper.

Sauté your chopped onion in a little olive oil until just translucent – 2 minutes.

In a large bowl combine the meatball ingredients with your hands. Form medium sized balls and place onto the baking sheet. Bake for 20 minutes or until internal meatball temperature registers 160° F.
Sauce:
On medium high heat, melt your butter in a pan and add the flour. Continuously whisk until the rue turns brown. Slowly add and whisk in the broth and then heavy cream.

Next, mix in the Worcestershire and Dijon and bring everything to a boil. Lower heat to simmer and cook until your sauce thickens, stirring occasionally. Season with salt and pepper to taste.

Add the cooked meatballs to the pan and continue to simmer for another few minutes, drizzling them with the sauce.
Notes
You can also pan fry the meatballs in some butter and olive oil.
Garnish with fresh parsley and freshly cracked black pepper.
Serve with my Best Mashed Potatoes recipe, rice or egg noodles.
Nutrition
Calories:
603
kcal
|
Carbohydrates:
10
g
|
Protein:
31
g
|
Fat:
48
g
|
Saturated Fat:
22
g
|
Polyunsaturated Fat:
2
g
|
Monounsaturated Fat:
19
g
|
Trans Fat:
2
g
|
Cholesterol:
217
mg
|
Sodium:
1102
mg
|
Potassium:
583
mg
|
Fiber:
1
g
|
Sugar:
2
g
|
Vitamin A:
796
IU
|
Vitamin C:
3
mg
|
Calcium:
97
mg
|
Iron:
4
mg