Ultimate Pan Seared Steak Sandwich
One of the easiest way to prep your steak and create an outstanding sandwich!
Just to make it clear: when I made this last week, my entire family declared that this was the best thing I had ever made, EVER. Okay now that that's out of the way, I'm going to say that this is not a simple recipe to throw together in 20 minutes. This sandwich is involved and time consuming. There are many steps but in my opinion, each step is really easy.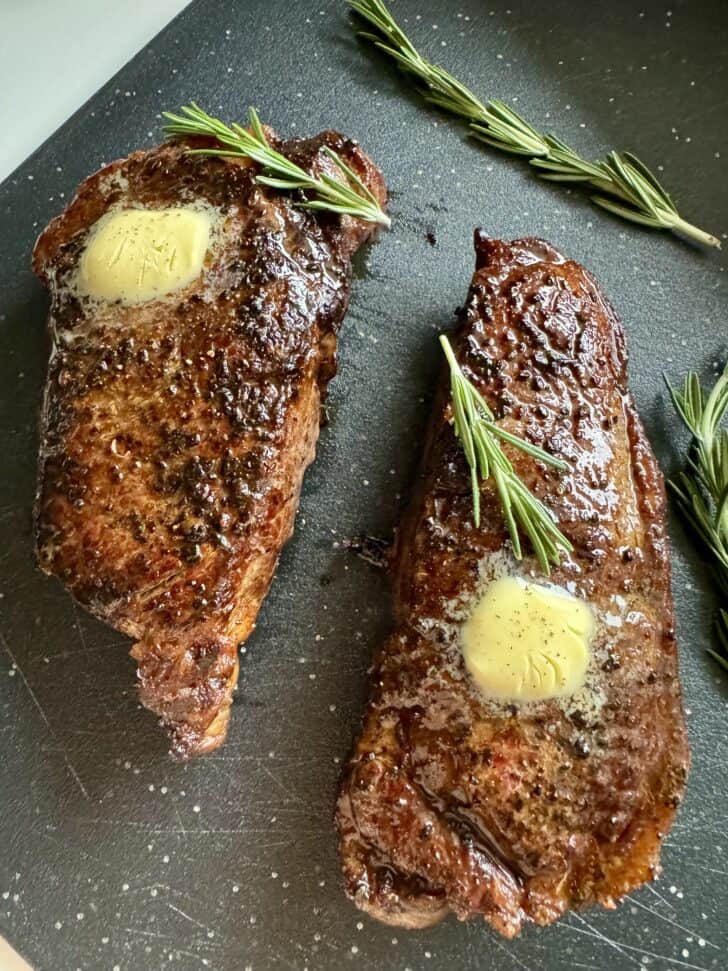 If you take anything away from this recipe it should be that you have a simple, but restaurant-quality steak recipe to turn to every time you're in the mood for one. The other parts of this recipe are crazy delicious but the steak recipe is a classic one that every home needs on file.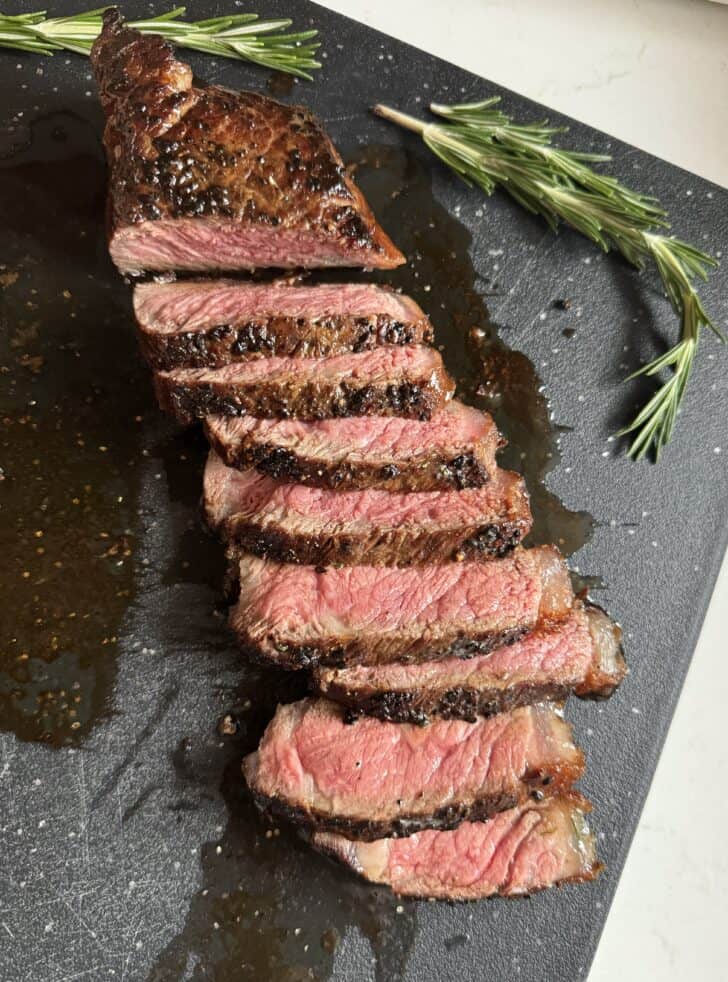 The Roasted Garlic Butter was so delicious. I burned my fingers squeezing the bulbs out so make sure you where mitts or something. This mixture is recommended to be spread on the fresh bread and toasted but my family likes the bread soft so we skipped that part.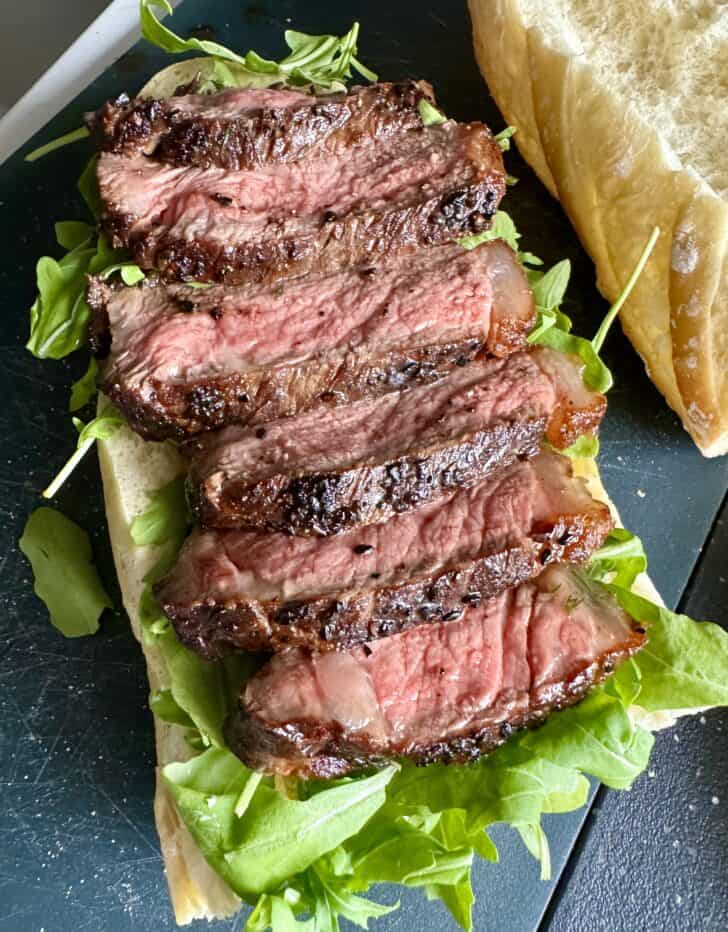 The Caramelized Onions are by far the most delicious part of this recipe. They take the longest but they are worth every minute. You just need patience and love for them and they will ultimately love you back in return.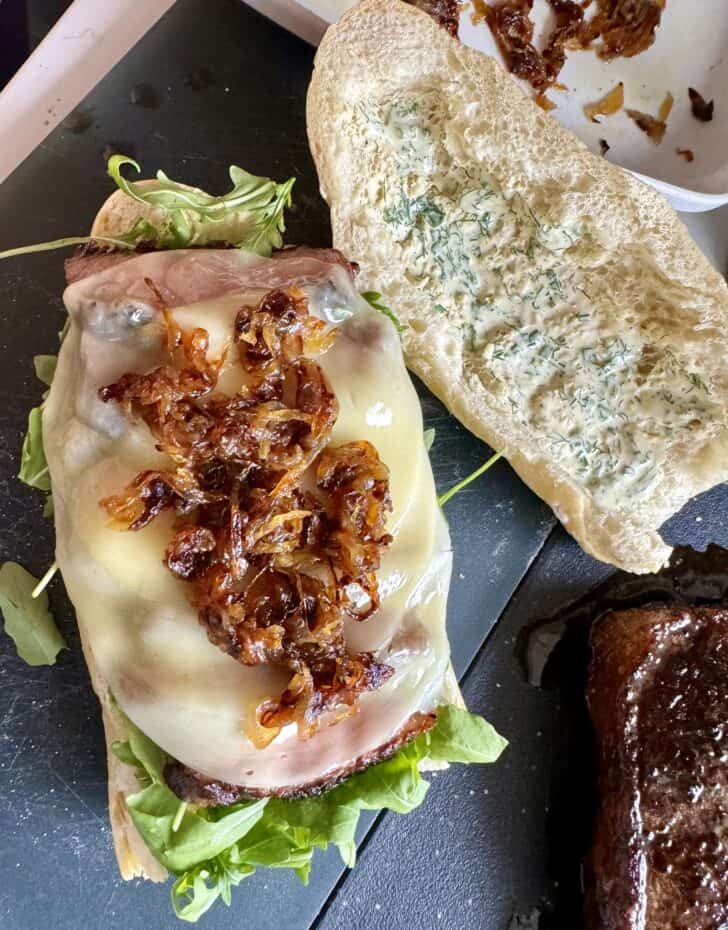 The Herb Mayo is also a sandwich non-negotiable here. It's really easy to make and if you don't have Kewpie mayo you can definitely sub in regular mayo. The flavor is tangly and creamy and we loved this spread.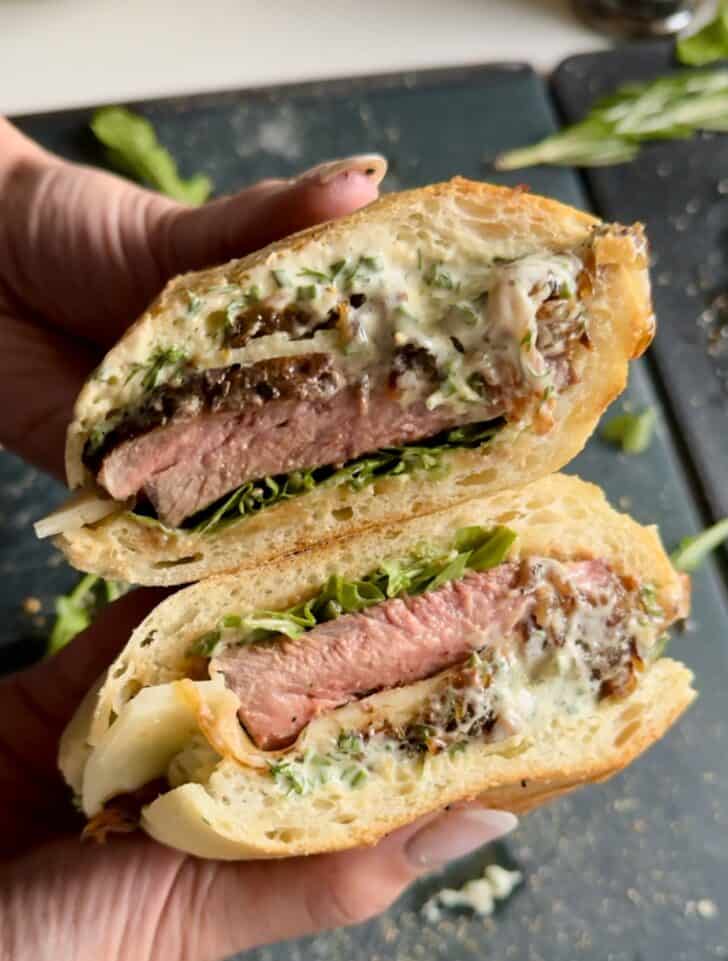 Thank you for swinging by Hungry Happens! If you create this dish or any other from our site, we would be so grateful if you took the time to comment and rate the recipe! LOVE YOUR LIFE!
Ultimate Pan Seared Steak Sandwich
Ingredients
Caramelized Onions:
1

tbs

olive oil

2

tbs

butter

2

large

onions,

sliced thin
Roasted Garlic Butter:
1

large head

garlic,

top trimmed

olive oil, salt and butter

4

tbs

butter,

room temp
Herb Mayo:
1/2

cup

Kewpie mayo

1

tsp

Dijon mustard

1

tbs

white wine vinegar

1/4

cup

fresh chopped chives

1/4

cup

fresh chopped dill

salt and pepper

to taste
Assembly:
5

oz

baby arugula

1/2

lb

sliced provolone cheese

2

loaves

Italian bread
Pan Seared Steak:
2

lbs

New York Strip Steak

(or Top Sirloin) 2 Steaks

2

tsp

olive oil

salt and pepper

to taste

2

tbs

butter

3

cloves

garlic,

quartered

2

sprigs

fresh rosemary

(or thyme)
Instructions
Caramelized Onions:
Melt your butter and oil in a large skillet. Add in the onions and cook them down on LOW HEAT for about an hour, until they brown and caramelize, stirring occasionally. You can rush this process.
Roasted Garlic Butter:
Preheat your toaster oven to 400℉. After you've trimmed the top of the garlic head to expose the bulbs, drizzle with olive oil and season with salt and pepper. Wrap the garlic head in aluminum foil and bake for 45 minutes or until the garlic is softened and squeezable. Squeeze out the garlic head into a bowl with the softened butter and mix to incorporate.
Herb Mayo:
Mix all of the ingredients for the Herb Mayo in a small bowl. Taste and adjust if needed.
Steaks:
Pat your steaks down with paper towels. Season both sides of each steak generously with salt and pepper.

Heat your pan on high and add in the oil. Lower to medium high and add in the steaks. Sear them on each side for 4 minutes per side. You also need to sear the sides of the steaks – about 1 minute per edge.

Lower the heat to medium and quickly add in the butter, garlic and rosemary. Once melted, carefully tilt your pan to one side and spoon the butter over the steaks continuously.

Medium Rare: 135℉

Medium: 145℉

Well Done: 160℉

Transfer your steaks to a cutting board and let them rest for 10 minutes prior to slicing.
Assembly:
Slice your Italian bread in half and slice to open them. I scooped out some of the inside of the bread (on the top part only) to give way to the sandwich ingredients.

Spread the bottom piece with the garlic butter, next comes the baby arugula, then the steak slices, then the cheese slices, caramelized onions and lastly the herb mayo! Top with the bread and enjoy.