Baked Asparagus Fries
My new favorite way to consume asparagus. Amazingly crunchy and delicious.
Not even gonna lie, these are spectacular for vegetables. They really are super crispy and feel like you're getting a treat. I would definitely serve these as an appetizer, as well as a side dish.
On the never ending search to change up the usual repertoire of vegetable prep, these types of dishes are born. And I'm so glad I discovered these. The asparagus shape is spot on for french fries. Why had I never done these before?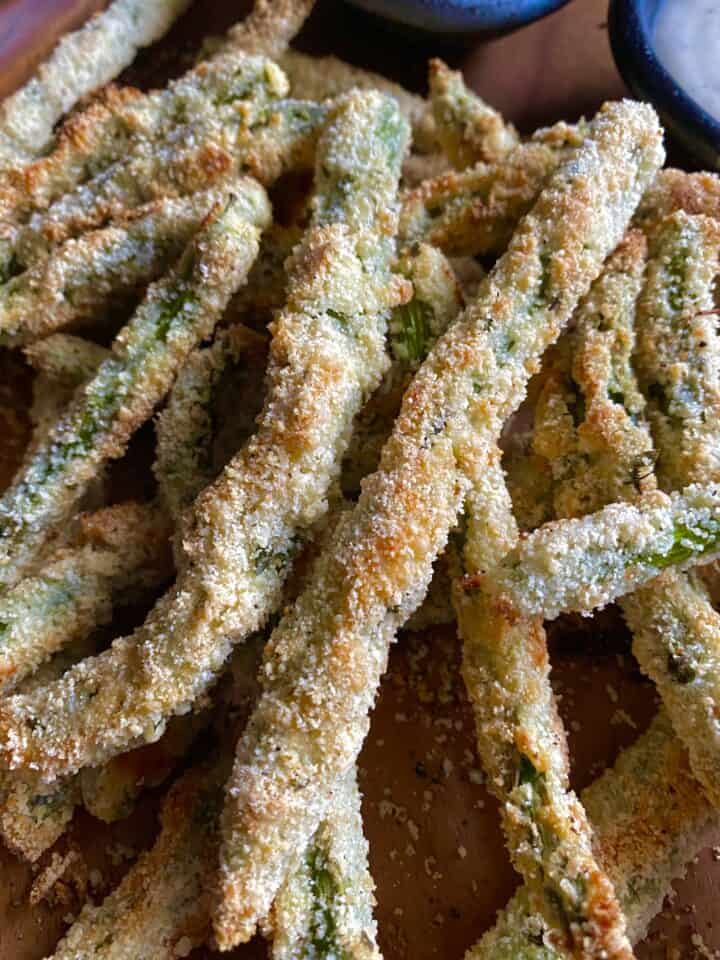 The beauty of these is that you probably have all of the ingredients sitting in your kitchen. You can also substitute in one ingredient for another, if you don't it or if you have dietary restrictions. Add more almond flour and parmesan if you want to make these gluten free. You can also sub in corn starch or tapioca starch for the flour. If you want to make these dairy free, just leave out the parmesan cheese and add in more panko and almond flour.
As far as dips go, I prepped some ranch and got the good ole ketchup out for the photo. Let me tell you, the ketchup was the true match here. Don't stress the dip on these. So simple and you can even air fry them.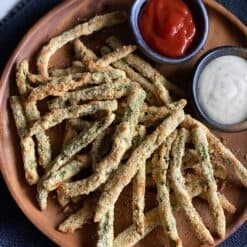 Crunchy Asparagus Fries
Ingredients
1

lb

asparagus

1/2

cup

panko breadcrumbs

1/2

cup

almond flour

1/2

cup

grated parmesan cheese

1/2

tsp

dried parsley

garlic + onion powders

to taste

salt + pepper

to taste

2

eggs,

lightly beaten

1/2

cup

flour*
Instructions
Preheat your oven to 375°F. Line a large baking sheet with parchment paper.

Trim the end of your asparagus and then cut them in half.

In a shallow bowl, add the breadcrumbs, almond flour and parmesan cheese and parsley flakes. Season mixture with garlic, onion powders, salt and pepper to taste and whisk to combine. In a separate shallow bowl, house the two beaten eggs. In a third separate dish, house the flour.

Coat the asparagus pieces in first, the flour, then the eggs and lastly the panko mixture. Place on the baking sheet and lightly spray with olive oil. Bake for 15-20 minutes or until golden brown.
Notes
Ketchup is the true match with regards to dipping.
*To keep these gluten free, use corn starch, tapioca flour or potato starch in place of the regular flour. And instead of the panko breadcrumbs, add in more almond flour and parmesan cheese.
Nutrition
Calories:
269
kcal
|
Carbohydrates:
25
g
|
Protein:
15
g
|
Fat:
13
g
|
Saturated Fat:
3
g
|
Polyunsaturated Fat:
1
g
|
Monounsaturated Fat:
2
g
|
Trans Fat:
1
g
|
Cholesterol:
90
mg
|
Sodium:
289
mg
|
Potassium:
303
mg
|
Fiber:
5
g
|
Sugar:
3
g
|
Vitamin A:
1074
IU
|
Vitamin C:
6
mg
|
Calcium:
233
mg
|
Iron:
5
mg