Best Mediterranean Chicken Marinades
The best flavors of the Mediterranean applied to your chicken meal prep.
These 4 quick and simple recipes are the best to know for delicious chicken dinners. These are all flavors from the Mediterranean countries that we love and are found in your pantry or fridge.
My favorite is definitely tied with the Greek and Italian versions. The Pesto you can buy ready at the super market or make your own. The zucchini and scallions are the perfect addition here. The Greek yogurt version is awesome with the orange flavors and you can sub in lemon or lime if your prefer!
The second beauty of this recipe is that you can pan fry them in a matter of minutes or you can transfer the contents of the bag to a small baking dish and bake for 10-12 minutes. Both way are super delicious and simple.
Thank you for swinging by Hungry Happens! If you create this recipe or any other from our site, we would greatly appreciate you taking the time to comment and rate the dish! LOVE YOUR LIFE!!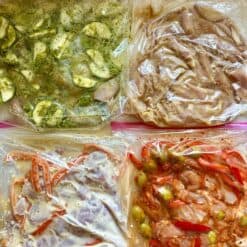 Best Mediterranean Chicken Marinades
Instructions
Marinate the chicken 30 minutes or up to overnight OR freeze the bags for a later date.

To BAKE: Transfer contents to a small baking dish and bake for 12-15 minutes at 425℉ (or until internal temperature of the chicken reads 165℉).

To PAN COOK: Just dump the contents into a hot pan and cook for 4-5 minutes per side. (I use this method usually).