Crispy Parmesan Potato Chips
All you need is 2 ingredients to make these delicious and crunchy chips.
These were TOO easy to make. Just a few short steps and you are on your way to delicious snack or side heaven. You really only need TWO main ingredients: Potatoes and shredded parmesan cheese. The seasonings are also important but usually most of us have some Onion Powder and Paprika lying around in our pantry. NO OIL is needed for this recipe.
Growing up in the 1980's and 90's, I had my fair share of junk food. This is before we knew what was actually being used in processed foods like chips. Way too many seed oils and ingredients you just don't recognize. My Crispy Parmesan Broccoli Chips went hyper viral so I knew a potato chip was in order.
There is no oil in this recipe which we all loved. We made a quick and yummy dip using ketchup as the base and then adding in a tablespoon of mayonnaise and a dash of Sriracha.
Its very important that you slice your potatoes on the thin side. NOT paper thin but not too thick either – about 1/8 inch thick. Its also important that you don't over par-boil your slices either. They only need a few minutes once the water comes back to a boil.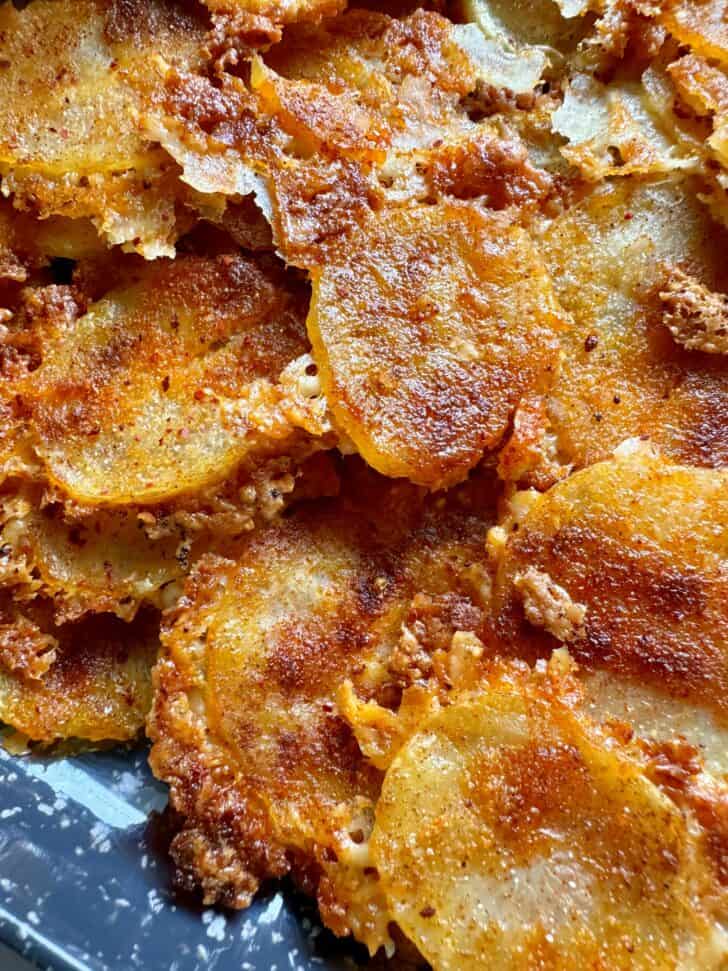 Thank you for swinging by Hungry Happens! If you create this dish or any other from our site, we would greatly appreciate you taking the time to comment and rate the recipes! LOVE YOUR LIFE!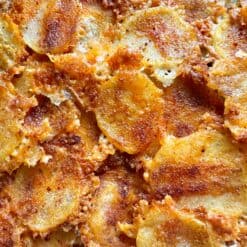 Crispy Parmesan Potato Chips
Ingredients
2-3

medium

gold potatoes,

sliced 1/8 inch thin

5

oz

shredded parmesan cheese

5

oz

shredded mozzarella cheese

salt, paprika + onion powder
Instructions
Preheat your oven to 400℉. Line a large rimmed baking sheet with parchment paper.

Note About Potatoes: do not slice them too thin – we don't want paper thin.

Bring a pot of water to a boil. Add in the potato slices and 1 tsp salt and bring back to a boil. Par boil the potato slices for 2-3 minutes max – DO NOT OVER BOIL. Drain the water and transfer the slices to a paper towel lined platter and spread out gently.

Sprinkle the baking sheet with the cheese so that there is a thin even layer of cheese. Next line up the potato slices so that they're not overlapping but right next to one another. Sprinkle the tops with salt, paprika and onion powder. Bake for 20 minutes or until golden brown. Allow to cool for 10-15 minutes and then brake apart to serve.
Notes
I used a combination of shredded parmesan and mozzarella but you can use just shredded parmesan.
Nutrition
Calories:
343
kcal
|
Carbohydrates:
17
g
|
Protein:
27
g
|
Fat:
18
g
|
Saturated Fat:
12
g
|
Polyunsaturated Fat:
0.4
g
|
Monounsaturated Fat:
5
g
|
Cholesterol:
48
mg
|
Sodium:
1140
mg
|
Potassium:
423
mg
|
Fiber:
2
g
|
Sugar:
1
g
|
Vitamin A:
555
IU
|
Vitamin C:
17
mg
|
Calcium:
849
mg
|
Iron:
1
mg