Peanut Butter Cream Cheese Swirl Brownies
Level up your brownie game with a Reese's version!
I almost can't take how incredible these are. I couldn't do them justice if I tried my hardest. All I can say is that if you are a fan of Reese's style desserts that combine chocolate with peanut butter, you must make these bars. They are legendary.
These brownie bars are actually super simple to make. The ingredient list is very short and you probably already have them all (the espresso powder is optional but recommended since it really brings out the flavor of the chocolate).
The funnest part of making these is the dolloping and swirling of the peanut butter mixture into the brownie batter. You don't want to ruin the design so you start off gentle but then realize that your really cant mess it up and proceed to create an artful masterpiece.
The hard part of this recipe is waiting an hour for it to cool to consume. Patience is easier said than done with this beautiful dessert. Serve with some vanilla ice cream for the ultimate sweet dish.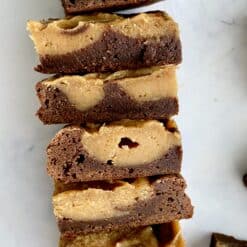 Peanut Butter Cream Cheese Swirl Brownies
Ingredients
PB Cream Cheese Layer:
4

oz.

cream cheese,

room temp.

1/3

cup

peanut butter,

room temp.

1/4

cup

brown sugar,

packed

1

egg
Instructions
Preheat your oven to 350° F. and line an 8×8 inch brownie pan with parchment paper.
Brownie Layer:
In a medium pot, melt your butter. Add the chocolate chips on low heat and mix continuously until smooth and melted.

Remove from heat and add in the sugar and mix. Add the eggs, one at a time and mix until batter is smooth and glossy. Then add the flour and espresso powder and stir until incorporated. Transfer batter to pan.
PB Cream Cheese Layer:
In a medium bowl, using a hand mixer, beat the cream cheese, peanut butter, sugar and egg until creamy.
Assembly:
Transfer the brownie batter to the pan and spread out evenly.

Dollop like 10 spoonfuls on top of the brownie batter. Use a butter knife to create a swirl design.

Bake for 20 – 25 minutes – you know your oven better than I do – DO NOT OVER BAKE. Let her cool on a wire rack, for at least one hour, prior to slicing.
Notes
I used all natural peanut butter that was salted.
Store leftovers in an airtight container in your fridge.