Mediterranean Style Cowboy Caviar
A salad recipe that will keep you coming back time and again.
I always have a ton of bell peppers and never know what to do with them. PROBLEM SOLVED. And in an incredibly addicting way too! This is a must make snack, side or main. We constantly make it on the weekends and my daughter and I graze on it the whole day. I personally cannot get enough of it but do yourself a favor, and don't forget the tortilla chips when you make it.
And don't worry if you are missing an ingredient or two. The first time we made it and filmed it, I forgot the jalapeño and green bell pepper and it still tasted awesome. I would say the non negotiable ingredients are a few bell peppers, the beans, avocados, corn, olives and feta.
The dressing is simple and fantastic. We used white balsamic dressing the last time and it was pure perfection. This is just so perfect because its got the protein from the beans and the all the vegetables and creamy feta – its heaven!
Thank you for swinging by Hungry Happens! If you create this dish or any other from our site, we would greatly appreciate you taking the time to comment and rate the recipe! LOVE YOUR LIFE!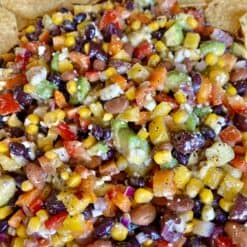 Cowboy Caviar Salad
Ingredients
14

oz

black beans,

drained + rinsed

14

oz

pinto beans,

drained + rinsed

1

red

bell pepper,

fine chop

1

yellow

bell pepper,

fine chope

1

orange

bell pepper,

fine chop

1

green

bell pepper,

fine chop

2

jalepeños,

fine chop

3/4

red

onion,

fine chop

2

cups

frozen sweet corn,

thawed

1

cup

black olives,

chopped

6

oz

feta cheese,

crumbled

2

avocados,

fine chop

Corn Tortilla Chips for scooping
Instructions
If you're making this salad ahead assemble everything except the avocados.

Whisk together all of the dressing ingredients. Taste and adjust tang or sweetness to your palate.
Notes
Make it vegan with vegan feta and maple syrup or sugar, instead of honey.
Nutrition
Calories:
640
kcal
|
Carbohydrates:
61
g
|
Protein:
19
g
|
Fat:
39
g
|
Saturated Fat:
8
g
|
Polyunsaturated Fat:
4
g
|
Monounsaturated Fat:
24
g
|
Cholesterol:
25
mg
|
Sodium:
716
mg
|
Potassium:
1041
mg
|
Fiber:
19
g
|
Sugar:
10
g
|
Vitamin A:
572
IU
|
Vitamin C:
26
mg
|
Calcium:
222
mg
|
Iron:
4
mg