Flourless Peanut Butter Oatmeal Chocolate Chip Cookies
Healthy and satisfying for any sweet tooth!
This yummy chewy cookie has been a staple in our home for years. The only regret you will have in making these is if you don't double the recipe. Yes, they're THAT good!
This recipe is courtesy of Ambitious Kitchen. It's only 7 wholesome ingredients and you can use coconut sugar if you want to make them even healthier. Any nut or seed butter works, including almond butter and sunflower seed butter.
Chocolate chips are optional here, if you're cutting down on sugar or calories. Add some walnuts, or pistachios instead. Or you can add some raisins or dried cranberries. White chocolate chips would be great too.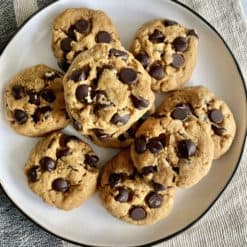 Flourless Peanut Butter Oatmeal Chocolate Chip Cookies
Instructions
Preheat oven to 350 F. Line a cookie sheet with parchment paper.

In a large bowl, beat two eggs. Add to it the peanut butter, sugar and vanilla. Mix until just combined.

In a small bowl, whisk the oat and baking soda. Add this mixture to the large bowl and mix until just combined. Lastly, fold in the chips. DO NOT OVER MIX.

Form small balls and place on cookie sheet. Flatten them slightly .

Bake for 10 -12 minutes. Don't over bake. Cool on the tray for 5 minutes and then transfer to a cooling rack for 10 minutes.
Notes
You can substitute in almond butter or any nut or seed butter for the peanut butter.
I have also made with coconut sugar instead of brown sugar.
Another great substitute for the chocolate chips would be walnuts, raisins, etc.